There has been a lot of buzz regarding artificial intelligence ("AI") and the obvious computer integration into every aspect of life, from driving cars to toasting bagels. The future, it seems, will need more semiconductors of smaller and smaller sizes to be used in more devices. I also try to find investments that are off the beaten path, investments that have a chance to grow explosively. Everyone knows about Advanced Micro Devices (AMD) and Intel (INTC), but very few people know about Axcelis Technologies, Inc. (NASDAQ:ACLS). Sometimes, this makes all the difference.
I didn't know anything about Axcelis until I started looking at their numbers and earnings call transcripts. What became apparent to me right away was that Axcelis is a growth company in a growing industry.
To give you a little background.
Axcelis Technologies, founded in 1978, delivers vital equipment, services and process expertise to the semiconductor manufacturing industry, helping customers reach higher levels of productivity with each new technology generation. A U.S. based-company, Axcelis operates globally.
Valuation
One of the first things that stood out to me was growth. Axcelis is a powerhouse both in its industry and in its financial statement. With over $440 million in cash and short term investments, Axcelis has taken advantage of the current geopolitical climate and positioned itself to profit.

The above image shows that, since 2018, Axcelis has built their war chest from $178 million to $447 million.


They have built their assets from $396 million to $934 million and only increased their liabilities by $228 million.

Over that time period, earnings per share tripled from $1.42 to $5.75. These increases in value and profits demonstrates the excellent five year stretch that Axcelis has had.

The ten-year chart is impressive. 260% returns per year. It makes me wonder why I never heard of them. It also makes me cautious, because sudden gains in the stock market can quickly become sudden losses. I was interested in figuring out if this was irrational exuberance or perhaps a great opportunity. The sudden price appreciation certainly could give a conservative investor reason to pause, but when you dig into the numbers the story makes a lot of sense.

Revenue estimates have the trend continuing into 2024, and I believe these trends will continue because the international semiconductor race has only just begun. The national security implications of semiconductor availability can not be underestimated. It is also important to consider that Axcelis produced these returns during a downturn in the industry.
Axcelis has benefited from being an early mover in the space with many advantages over potential startups. It has demonstrated the ability to scale up operations over the last five years.
This issue of semiconductor dominance is also of extraordinary importance right now. The governments around the world cannot wait ten years to sort it out. If they wait ten years, it will be too late, and their country will have been left in the semiconductor stone age.
For these reasons, we believe that Axcelis is a great buy for any long-term-oriented investor. Axcelis should continue to grow its earnings. As a relatively small company, ACLS has the chance to take on market share in a growing market. They don't even have to take it from their competition they can just take on new business as the overall market grows.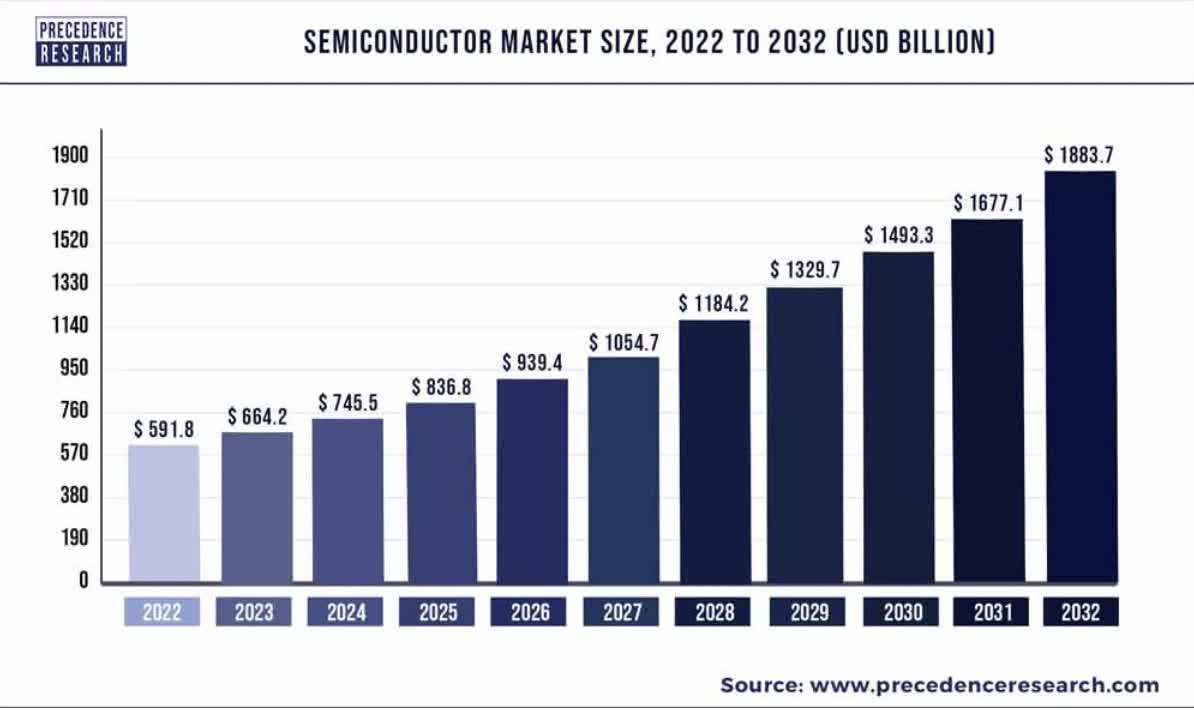 The above image shows predicted growth of the semiconductor market over the next decade. The research is predicated on the growing use of electronics and artificial intelligence globally. You can read more about their research here.
I am confident that this growth will occur because machines are everywhere semiconductors are everywhere and we will soon need more of them. This is a true win win for any company already established in the market.
For these reasons, I believe it is reasonable to expect Axcelis to grow significantly over this time and I'm not alone.
The CEO of Axcelis, Mary Puma, agrees and forecasted significant medium-term growth during the recent earnings call:
"As the industry exits this downturn, Axcelis will experience significant growth as these traditional semiconductor segments recover. This combined with continued strength in the power and mature markets will drive Axcelis to our $1.3 billion model and beyond."
I tend to focus on the short term goal of $1.3 billion in sales, but I couldn't help but focus on the beyond part of her statement. To put it in perspective, that's an approximately $300 million increase or 30% growth. You only have to compound that for three years to see a company almost double.
To take that statement even further beyond is an exercise in optimism and possibility. I see a path for ACLS to grow its market cap to be almost $50 billion dollars before 2032. I know that might sound a little excessive, but we see Axcelis as a company that could double in size over the next three years and then see explosive growth at the end of the decade.
Axcelis currently represents around 1% of the global semiconductor market. By 2032, if they maintain market share, they should be worth around $19 billion. If they can grow their market share to 3%, they would be worth $57 billion. We think because of the current geopolitical climate that this is very possible. The United States must grow capacity, and U.S.-based companies should benefit directly from this.
Risks
In 2023 and beyond, Axcelis and other semiconductor companies face a range of potential risks that may impact their operations and overall performance. These risks include supply chain disruptions due to raw material shortages or geopolitical tensions, potential market demand fluctuations and economic downturns, fierce competition from other players in the industry, and the ever-present challenge of technological obsolescence. Moreover, safeguarding intellectual property becomes critical as technology rapidly evolves, while compliance with regulatory standards and environmental concerns requires continuous attention. Global political and economic uncertainties can add complexity to their operations, and labor market challenges may hinder access to skilled talent. To stay resilient and thrive in this dynamic landscape, Axcelis must proactively address these risks, innovate their products, and prioritize sustainability in their practices to achieve long-term success.
Conclusion
Axcelis Technologies, Inc. has seen phenomenal growth over the last five years. I believe this trend shall continue. When I started researching Axcelis, I had no idea how strong a company they were, and I have to say the more I dug into their numbers, the more I liked it. I rate this company as a strong buy for long-term investors.
Axcelis Technologies stands out as a dominant player in the semiconductor manufacturing industry, fortified by a robust financial position and an impressive track record of growth. The company's strategic build-up of cash and assets, coupled with a significant increase in earnings per share, highlight its exceptional performance over the past few years.
As the semiconductor market continues to expand, Axcelis is well positioned to capitalize on the opportunities presented by its early mover advantage and ability to scale operations efficiently. The global race for semiconductor dominance and the growing importance of this technology for national security further bolster the company's potential.
Amidst these promising prospects, it is essential to acknowledge the risks that lie ahead, including supply chain disruptions, market fluctuations, intense competition, and technological challenges. To sustain its trajectory of success, Axcelis must maintain its innovative edge, and prioritize compliance and sustainability. Considering the company's growth trajectory, potential market gains, and the CEO's optimism, it appears to be an attractive investment opportunity for long-term oriented investors, with the possibility of exponential growth over the coming decades.
I judge Axcelis' future prospects to be promising, and I think Axcelis is a strong buy currently.
Although I would love to buy Axcelis Technologies, Inc. stock anywhere under $160, I cannot guarantee you will see that level again in the near future and I am comfortable buying now. As always, please do your own due diligence on Axcelis before buying. Thanks for reading and please share your thoughts below.